July 29 2013
2
29
/

07
/

July
/

2013
01:38
Rock Olmen, Olmen, 26 July 2013
How do you pigeon-hole Muse now-a-days? Progressive pop-metal? It suits In-Kata from Antwerp. They're a pretty tight outfit, with a singer both sounding and looking like a cross between Matt Bellamy an Ozark Henry. Though the next number has a real funk-metal flavour to it, not unlike Living Colour.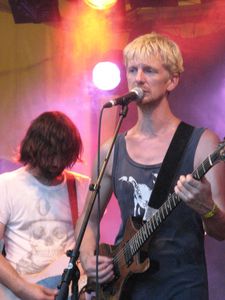 Damned good band. I thought I'd be pleasantly surprised by a few things here at Rock Olmen, as the lineup includes a few bands I've been watching for a while, and it's absolutely top to see them all on the same bill at one of the many rock festivals we seem to be treated to in Belguim. But at the moment, there's more of a garden party atmosphere, with families sat in the shade of the trees enjoying the excellent catering from a local Thai restaurant.
Fortunately, I bump into most of Rosa Parks, and can get a CD off them. Unfortunately, I don't get there in time to see them, as I'd missed the signposting for the carpark, and the GPS has trouble with the temporary 1-way system.
But Recorders are on. The crowd is a lot less sparse than it looks, hiding in the bar or in the shade. The band has made huge changes in their sound (and lineup?) since I first saw them when they sounded rather Interpol-ish about 5 years ago, but now, M83 / Glasvegas are more appropriate soundalikes. It's actually quite a varied set - some stuff works well, some falls a bit flat. But generally, they've gone down quite well with the punters. The song where Gordon takes over the bass got a particularly good reaction, and I was pleased to see they included some older material. Current single Purple & Gold works far better than I was expecting live. I'm looking forward to the debut album in October.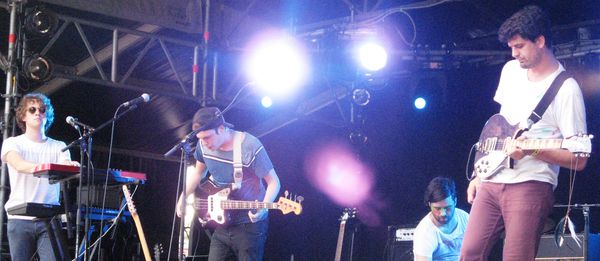 This whole area at Rock Olmen is about the size of 2 football pitches, with a (very) large bar and a couple of buildings. And they have 3 (three!) stages, offering almost continuous music from late afternoon to late night. And it's time for the 1st act on at the 3rd stage - The Chapel.
This clammy, dark, low ceilinged room is just the perfect scene for the sort of intimate and attention grabbing lo-fi post-folk-rock that Mister & Mississippi have on offer. Soundslike? Mumford & Sons with better tunes, a drumkit and no banjo. Or Sighur Ros gone accoustic(ish). Or Daughter. It is utterly beautiful music - fabulous songs, two wonderful voices, two fantastic guitars, lyrics that suck you into the story.
Best surprise of the day? No. I don't think I should be surprised at all. Whoever has programmed this knows, as I do, that there is some fabulous stuff to be found if you look for it. And the looking has been done.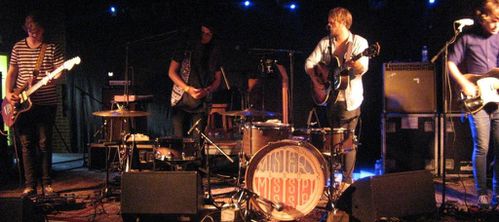 Coasts, from the UK, are OK, but their rather whatever plinky guitar pop sound only works for about 2 songs for me. Catchy, singalong, well performed? Yes. Variety? No. But they finish in perfect time for...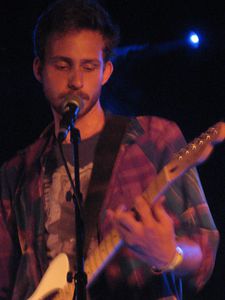 Float Fall. Rather cute boy-girl duo, both singing, with him on guitar and her on synths & French horn. More lo-fi, but this time electronicish. Shame about the technical hitch that caused the late start - I liked that and could have stayed for more, but it's time to swap the oppressive clammy heat of the Chapel for a lighter summer evening air, a persistant wiff of cow-piss, and...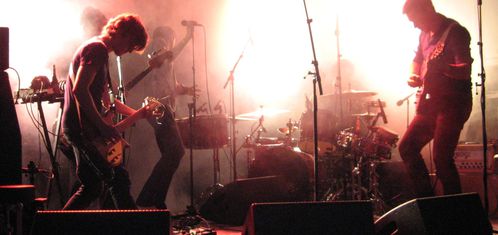 The Black Heart Rebellion. Oh my! Doom laden post-rock from the darkest of souls screaming with feedback, thundering bass, manic drumming, and a voice darker than Nick Cave in his darkest hour. The chanted screams of these tortured souls haunted in the chaos of their despair.
It really sucks you in and gets you emotionally committed. The stage is lit strictly from the back, making the band look like ghostly shadows against the backlight. The music is like taking all your hate, violence and negativity into hell, where it belongs, and walking out again. Fantastic.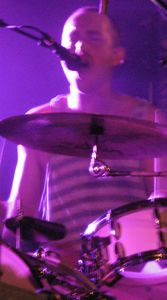 BRNS strike me straight away with the originality of the instrumentation and vocal harmonies. The whacky noises coming from the guitar, the percussionist and bass player doubling up on synths (not a sequencer or laptop in sight), the bass often foremost in the songs, the drums often providing a leitmotiv, and three of the four band members alternating on lead vocals. They have mastered the art of putting a break in the song that has you wondering what on earth will come next, and the ideas can be both very simple and incredibly creative at the same time.
Storming set. Not once did I think "soundslike". Not once did I lose focus from the stage. The only disappointment was that they didn't come back out for an encore, cause like the rest of the crowd, I was braying for more.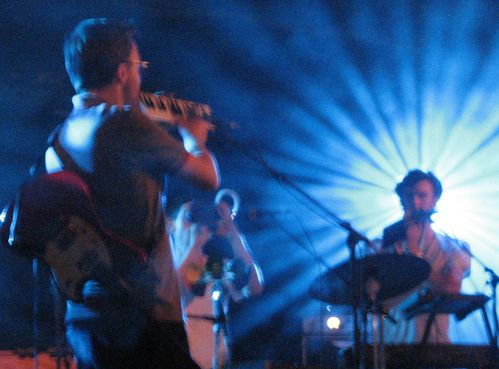 Will Johnson, over from the US with just a guitar is in the chapel 5 minutes later sounding like a cross between Don Mclean and Seasick Steve, but the lure of chips and some real raw rock'n'roll are too tempting to stay for longer than one song.
Greeting the crowd through a haze of dry ice with "Tomorrowland... SUCKS", The Hickey Underworld waste no time in grunging up the amps, and are dripping with sweat before the first chorus. They prove to be a phenomenally good rock band - the sort you smell before you hear them. The guitars sounds are fabulous, the musicianship is terrifying, and I find it totally void of subtlety or originality.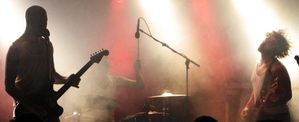 Yes, I know - that's not the point, and I may well have dissagreed with myself if I'd had a proper skinfull and had chosen the campsite instead of the drive home.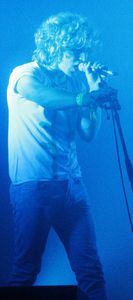 Ha! Tomorrowland strikes back! The final treat for this evening is this year's Humo Rock Rally winners - Compact Disk Dummies. It's not really good rock, and it's not really good dance, but they fuse both styles together and make it work very effectively, and the kids love it.
They have a knack for making the predictable breaks unpredictable by making them last longer. The guitar is - err - efficiently simple, and fortunately not omnipresent. In fact, it's hard to tell if they have any musical talent at all, or if they just hit lucky by having no clear idea of what they want to do or where they want to go with the toys they got for Christmas and just wasted time away playing with a laptop in the bedroom. Having said that, I wouldn't at all be surprised if they end up producing the next Madonna album.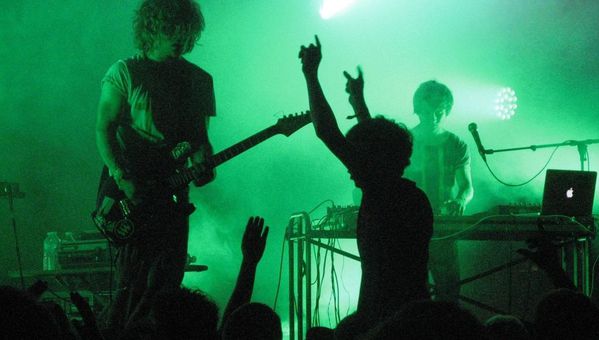 What they do have is an uncanny talent for working the crowd, with a fair amount of crowd-surfing, including Lennert himself - without missing a note.
This is the sort of band that you warn your kids against going to see, but they're old enough to be my kids, and I can't help but like what they do and how they do it.
Wot??? - D'you expect me to dance as well???
Judging by the handfull of tents in the campsite and the dozen or so cars in the car-park, (and the large number of bikes just outside), I'd guess that very few people have travelled far for this edition of Rock Olmen. I'm glad I did.
In the war against overpriced, overhyped, oversold, over-mediatised super-hype, this was quality music, quality food, no queueing, great buzz, and unbeatable value for money.
They won the battle with their armour down.