December 25 2009
6
25
/

12
/

December
/

2009
17:26
Shambolic + The Haands
19th December 2009 - Bar 1.22, Huddersfield
Once upon a time in the late '80s, way back when I was a lad and used to get out quite a lot, I lived in Huddersfield. The local alternative scene at the time consisted of an indie band called The Protagonists, and local Goths, The Frogs of War (which still rates in my top-3 favourite band names, along with Rebel Without Applause and Hamster Sex Monster)
Tonight is the first gig I've been to in Huddersfield for 20 years, and it's still some of the same people on stage.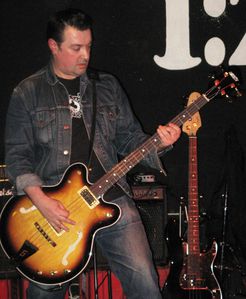 The Frogs of War bass player now lives in London and goes by the name of Hands Randal. He's teemed up with ex-Blow Monkeys drummer Tony Phones and ex CNN / Tinstar frontman/guitarist Dave. They also all feature in Jok (with guitarist Lucy Temple) – a band who've produced one of the most exciting albums of 2009. The Haands, by all accounts, is just something they do for the fun of it, and quite possibly to soak up material that is not needed or quite suited to Jok.
Pure raucous garage rock. That just about says it all. Loud, fast, tight, in yer face, energy.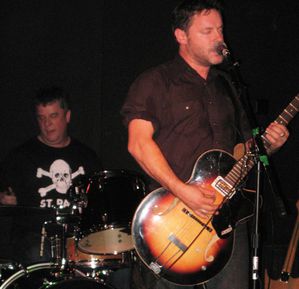 With a touch of psychedelic rockabilly. To pull of something like this, you have to be great musicians, but there's a fair amount of guitar porn onstage as well, with a lovely Gretch 6-string, and the most beautiful semi-acoustic bass I have ever set my eyes on.
Go & listen to the stuff on Myspace – the music is far more eloquent than I am. If you think that's OK, you'll love The Haands live – this is the sort of rock music that is made for a packed pub with loads of beer. All I can say is if this lot are pretty good, Jok must be absolutely sensational. What you hear is what you get.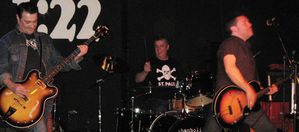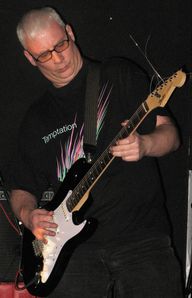 I did the sound for these guys (read – lent them my keyboard amp as a PA) way back when they were The Protagonists for one of their very first gigs - at The West Riding in Huddersfield (The pub where the reminiscents of Huddersfield's genuine Punks used to hang out). That must have been about 1987. Pete Der Van Driver became Pete Der Bass Player in '89, and Matt stood in for the original drummer (retired for heath reasons) some time in the intervening years.
Shambolic is a pretty good name for a band where you're really not sure who's going to manage to get pissed enough to fall off stage first. Like a good Saturday night out with the lads, there's a strong togetherness and coherence, and that overriding suspicion that Pete and Matt are just going to collapse with embarrassment at either Dickie or Wakel's antics and have to carry them home. It's nice to see they still have that edge about them. Nothing too polished or subtle, and still true to that good old Punk spirit.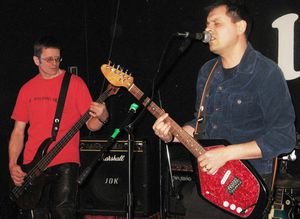 No golden oldies like Sugarfly or Tiffany, but rather a set that includes most of the self-produced 2009 album. A few of the tracks seem a bit on the bland side, maybe down to using the same key quite often to fit in with Dickie's range, or Wakel's guitar being toned down a bit from the harsh, aggressive tones that I remember from 20 years ago. Dickie has picked up a nice Vox Teardrop in the meantime and learnt a few chords. But the set moves on and does get steadily better. I can't help thinking they've mellowed a bit in the intervening 2 decades. It's hard to know how accurate your memories are after a few beer-fuled gigs 20 years ago, but even if it's not quite the as aggressive and as chaotic as I remember, the excitement and energy that they get accross is definitely still there. I liked some of the 2 guitar interaction stuff – a sort of lo-fi Bloc Party, and there's a few tracks, like Shine & Resonate that are really top-notch. It drives on for some really great rockin' stuff, including at least 2 new songs. And then, they stop and walk of stage. End of set. "I told you we were Shambolic".

Feh! We want more. And we get some. After all, it's a freezing night, and the 30 or so people who are in the pub seem to be friends of someone in one of the bands or bar-staff. I'm sure it would be quite different if it was a bit warmer and in term time, and it didn't clash with so many Christmas parties. But I'm enjoying the beer, the company and the music, so I'm not complaining.
Just like on the album, Dickie pushes his voice to the limits of what is feasible without ever quite loosing the plot, and keeps it going right to the end of the set. And Wakel still has that unique flange/distorted guitar sound that has a distinctiveness that most guitarists crave for. For some reason, I thought a bit of early U2, probably because of some of the really simple and effective stuff, The Alarm – sheer raw energy and a bit '80s, and bit of Green Day (hmm – yes, I know).
Just like regrets over Sunday morning's hangover, you know that there's just no better way of spending a Saturday night, and you can't wait to do it all again.